TELTONIKA'S IMPRESSIVE HALF-YEAR: ALL PERFORMANCE INDICATORS GREW
At the end of last year, we announced that the Teltonika company group grew by 30% in 2020. We have aimed to maintain the same growth rate this year as well. But the results for the first half of 2021 have already exceeded our expectations, and we look forward to sharing our joy with you!
At the end of last year, we announced that the Teltonika company group grew by 30% in 2020. We have aimed to maintain the same growth rate this year as well. But the results for the first half of 2021 have already exceeded our expectations, and we look forward to sharing our joy with you!
EVERGROWING TEAM
Comparing the first half of 2020 with the first half of this year, we have grown by 93%. It means that the turnover of the whole company group today higher than €95 million. We could not have achieved it without our talented employees and their daily efforts contributing to the company. This year, we already have 1,600 employees worldwide, with a 27% increase from 2020. In the first half of the year, our regional offices recruited 109 new employees. We are confident that this number will continue to grow and reach 1,800 team members worldwide by the end of 2021. As a result, within ten years, we will have 5,000 employees in Lithuania and the same number in our offices overseas.
THE HIGHEST WAGES
Exciting projects, a dynamic environment, ample opportunities for learning and professional development, and a strong organisational culture of mutual trust and respect are not the only benefits our employees enjoy. The average salary at the Teltonika company group is increasing by 20% annually. In 2022, it will reach €5,000. We are overjoyed to be among the highest paying companies in Lithuania and offer competitive and steadily rising salaries, thus encouraging our employees to grow and reach career heights.
MILLIONS OF PRODUCED DEVICES
Our yearly growing production capacity is one of the key advantages that we are proud of. Since January 2021, we have produced 2.2 million units, and we expect this number to reach 5 million this year. From the start of the company up until today, we manufactured 15.5 million IoT devices, which helped thousands of customers and partners worldwide and solved their problems.
SUCCESS OF BUSINESS NICHES
In 2020, during Teltonika's reorganisation, we established separate companies for different business niches: Teltonika Telematics, Teltonika Networks, Teltonika Telemedic and Teltonika EMS. By the end of last year, we had already seen a greatly positive impact of reorganisation on work efficiency, and today's achievements have only further proved its success.
Teltonika Telematics
In the first half of 2021, Teltonika Telematics sold more than 1.6 million products. At the beginning of the year, the company launched its first camera solution – Teltonika DualCam, an advanced dual-camera tracker. The device records view in both directions – the front and the back, providing invaluable information on traffic accidents.
The main advantage of Teltonika DualCam is the automatic sending of footage to a server, which can be used as detailed evidence facilitating the investigation of car accidents. Teltonika Telematics has also launched a new tracking device, FMP100. This quick-to-install device with 2G connectivity, Bluetooth, RGB LED and audio signal, and USB interface is ideal for insurance telematics, courier services, car rental or leasing, and other businesses. By pressing the button, the device can easily switch from work mode to private mode and send an alarm during an emergency. Read more here: FMP100.
During this period, the company also launched another innovative video solution, the Advanced Driver Assistance System (ADAS) camera. ADAS functionality warns the driver of potential collisions, errors and road accidents via a visual and sound alert on a small monitor. The footage is transmitted to a server and stored on a MicroSD card. Moreover, Teltonika Telematics presented its new Global Connectivity Solution that enables the company's devices to connect to the mobile network on all six continents using a single SIM card. All the SIM cards inserted in the GPS trackers can be managed and analysed in one place – the internal IoT platform. This solution helps Teltonika Telematics customers reduce the roaming costs of their tracking devices in more than 110 countries worldwide.
Teltonika Networks
This was a particularly successful half-year for Teltonika Networks, with a turnover growth of 93% compared to the first half of 2020. In March, the company announced the creation of a new division. Teltonika Networks is now focusing on two niches: the Cellular Product Division, developing cellular equipment, and the Ethernet & Wireless Product Division, developing Ethernet and wireless equipment.
The company works continuously to design and manufacture advanced, innovative equipment. In the first half-year Teltonika Networks launched three of its latest network equipment products - the RUT300, RUT360, and TSW110. The RUT300 is an industrial Ethernet router designed by the newly established Ethernet & Wireless Product Division. This small but powerful router perfectly handles the challenges of industrial applications as well as everyday networking tasks.
The RUT360 Industrial Mobile Router is an updated version of Teltonika Networks' all-time bestseller RUT240. This compact, secure and durable device connects to the Internet via cellular, WiFi, or wired connections. The TSW110 is a plug-n-play network switch that requires no additional configuration and has five 10/100/1000 Mbps Ethernet ports. In addition, in April this year, Teltonika Networks announced that it's developing the first Lithuanian 5G products. The 5G technology will be deployed in new industrial-grade mobile routers, which will add more value and provide solutions for even the most complex industrial infrastructures.
The company's success story is not only about building a high-quality devices, but also about sharing its experience and knowledge with partners. Therefore, Teltonika Networks has developed a special certification program for sales professionals and technical staff, allowing partners to gain all necessary product information, learn how to provide the best solutions for their customers, and solve their problems efficiently, and become true Teltonika Networks product experts.
Teltonika Telemedic
Amid the 2020 coronavirus pandemic, Teltonika Telemedic has been actively working on the TeltoMed One (DPV100) artificial pulmonary ventilation (APV) project and has achieved truly amazing results. The prototype of the device was delivered in just 30 days from the start of the project! And today, Teltonika Telemedic is continuing this impressive initiative by designing an updated and even more advanced version of the artificial lung ventilation machine - TeltoMed 2 (DPV200).
One of the highlights of the first half of the year for Teltonika Telemedic was the unveiling of an innovative medical smartwatch that detects atrial fibrillation. The company has already carried out a study on functionality and customer needs and completed clinical trials with Lithuanian universities, which have shown the device's extremely high accuracy - as high as 99.2% - compared to medical devices used in hospitals. The watch has been continuously improved based on suggestions from medical professionals. Market premiere of this groundbreaking smartwatch that continuously measures heart rate and detects atrial fibrillation is planned for the fourth quarter of this year.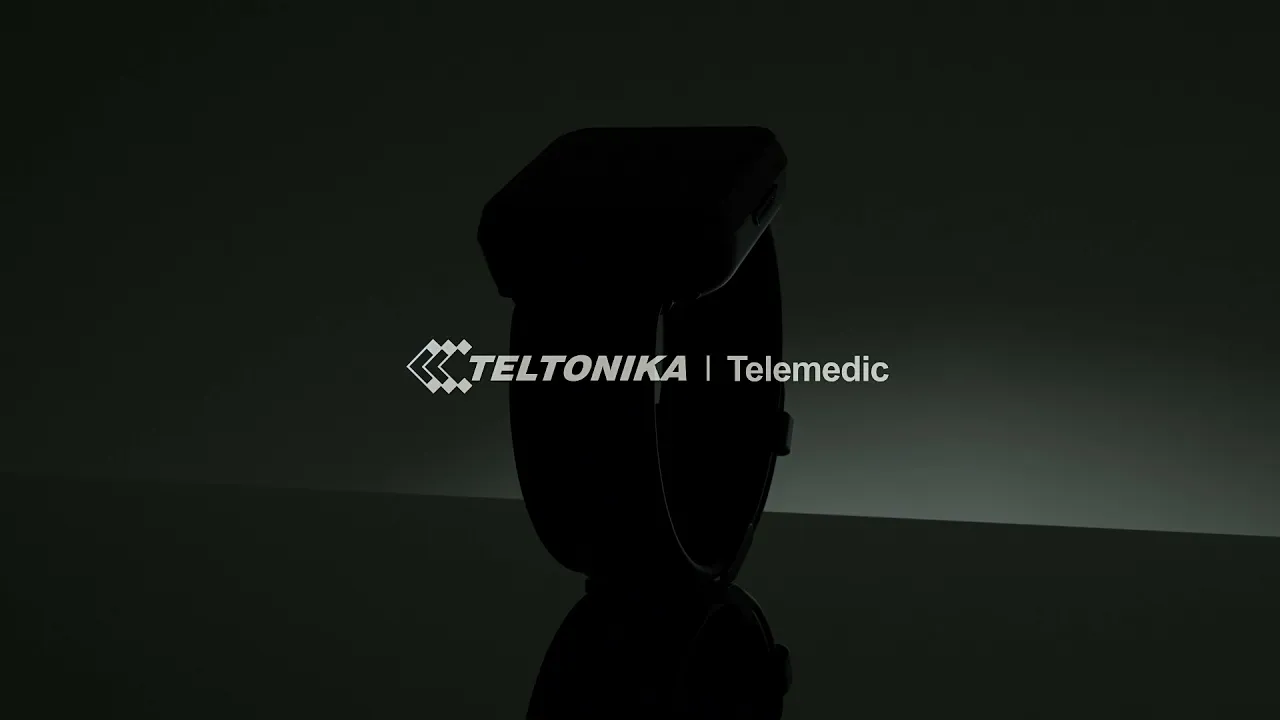 Teltonika Mobility
This half-year, Teltonika Smart Autonomous Solutions was renamed as Teltonika Mobility. The number of products sold by the company amounted to more than 115 000 units.
Another important business niche being developed by this company is micro-mobility, personal, and asset tracking solutions. This half-year, Teltonika Smart Autonomous Solutions was renamed Teltonika Mobility. The number of products sold by the company amounted to more than 115 000 units.
This included the bestselling GH5200 autonomous personal tracker or also known as Worker BadgePlus. The product has integrated GNSS, GSM, and Bluetooth connectivity, five configurable buttons. It is a thin, convenient and reliable solution that recognizes scenarios such as "Man-Down", "Alarm" and "No Movement".
In addition, in June, Teltonika Mobility released the long-awaited asset tracker TAT100, ASSET TRACKEREASY. The product features long battery life, water and dust resistance (IP67) and provides high-quality monitoring and control of valuable assets such as wire reels, tools, construction equipment, containers, scissor lifts, and other expensive equipment. Also, during this period, Teltonika Mobility started the design of devices with 4G LTE. The company has updated and improved the design of its personal trackers to make them even more responsive to the needs of today's customers. Teltonika Mobility also plans to launch a completely new series of advanced products with LTE connectivity.
Teltonika EMS
For Teltonika EMS, as for the Group as a whole, this half-year was a record year. At the end of the first quarter, Teltonika EMS had a turnover of more than €20 million and in March, for the first time in Teltonika's history, 400,000 devices per month were manufactured. There have already been other innovations in production this year: at the beginning of the year, an integrated selective soldering system was installed, another SMT line was ordered and two additional robotic systems were added. In addition, while the pandemic has limited our partners' ability to see our operations from the inside, we have found a way to solve this problem - Virtual production tours, during which we present all processes to our customers and partners via video calls.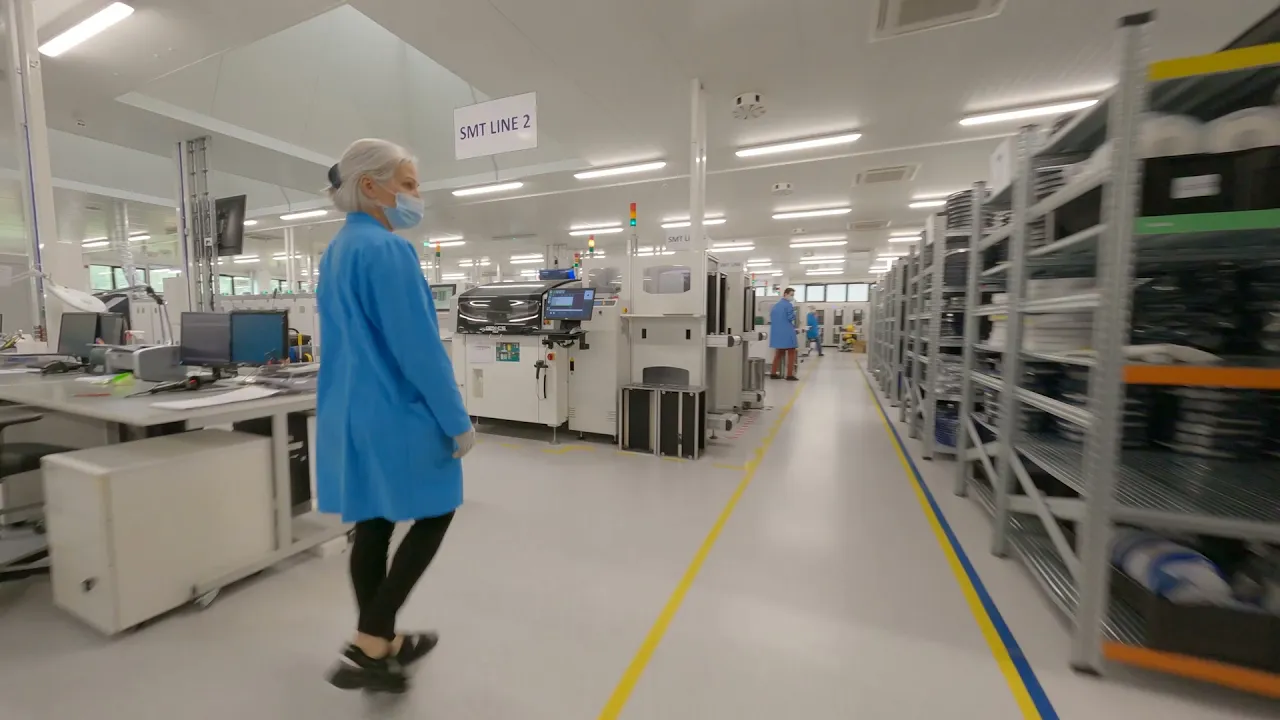 We invite you to fly into the Teltonika EMS world with the drone and see our production processes from the inside.
ESTABLISHMENT OF TELTONIKA HIGH-TECH HILL ORGANISATION
In April, the Teltonika group of companies established a public institution – TELTONIKA HIGH-TECH HILL. This institution aims to promote cooperation between science and business, foster the development and growth of young talents, and help them build a career in technological fields. We are excited that this member of the Teltonika company group has already achieved a lot. We have signed cooperation agreements with Vilnius University, Vilnius Gediminas Technical University, Kaunas University of Technology, Vilnius University of Applied Sciences, Kaunas University of Applied Sciences, Kaunas University of Applied Engineering Sciences, and Utena University of Applied Sciences. These agreements ensure a close connection between science and business, improving the quality of studies and creating the best conditions for young talents to learn and acquire the knowledge and skills needed on the market. In addition, we have started a unique scholarship programme for first-year IT and engineering students. More than 100 candidates have already applied for an annual scholarship of €3,000.
LIKE THIS STORY?
Share it with friends!
GOT A QUESTION?
We're here to help!